Leaving Nokesville in the Dust
The class of 2018 is officially moving on from high school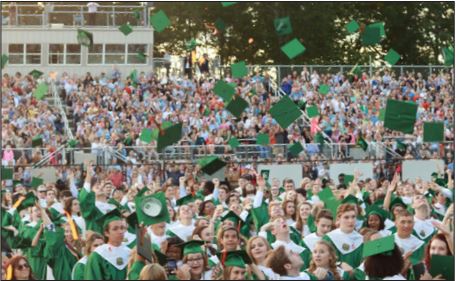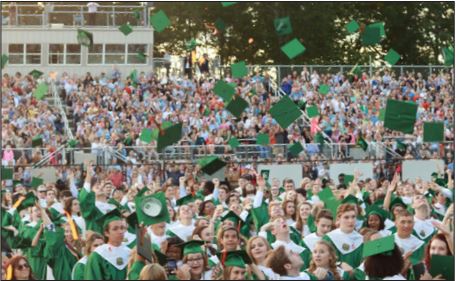 Seniors will soon walk across a stage to receive a life-changing piece of paper. The class of 2018 will graduate on Saturday, May 25 at 6 p.m. in Cougar Stadium.
Guests will enjoy the graduation ceremony from the bleachers. In the case of poor weather conditions, the ceremony will be held in the main gymnasium and students will receive six guest tickets to give to family members and friends so they may attend the ceremony. Other attendees may watch the livestream of the ceremony online.
This will be principal Meaghan Brill's first time sending seniors off into the real world, as it is her first year at the head of the school. The year has gone well in terms of keeping the school community cohesive after Major Warner left his position as principal, and Brill is eager to take over the duty of handing out diplomas.
"I am very excited for graduation!" Brill said. "It's a time to reflect on the school year and the last four years for our seniors. Although I have been involved in the ceremony in different capacities, this is the first time I will experience it first-hand as the principal. I always look forward to the energy of the day and the joy it brings our students, their parents, family members, and friends."
Members of the graduating class are eager for the ceremony too, as many are ready to begin their adult lives away at college or entering the workforce.
"I'm so excited to finally be an independent and make my own decisions," Maura Kate O'Hara said. "It'll be liberating to finally have the Seniors' Memories Pages 8 & 9 Becoming An Only Child Page 11 Breaking Records Page 15 freedom I've been waiting for."
"I have always been so nervous to graduate and deal with life," Sarah Pierce said. "But the closer it becomes, the more serious I am. I am not only nervous but I am excited to see life outside high school."
Joey Moore, senior class president, will deliver a speech to the audience.
"The graduation speech is probably the most important task that the senior class president has to do," Moore said. "It is important because it's basically a farewell address to our whole class that I hope they will remember. It is also a culmination of what our class is viewed as and our successes in high school."
Approximately 5,000 people attend Kettle Run's graduation ceremony each year, leaving Moore with a few nerves.
"I've never spoken in front of such a large group, and I know I will already be nervous because I am coming up on such an important landmark in my life so far," Moore said. "Being senior class president was a great opportunity and was very rewarding. Not only did I get to work with students in our class to do what we saw fit for the class, but I also got to participate in many school events and collaborate with our class's supervisor, Mrs. Embrey."
Following the performance of the national anthem, Lizzy Morris, senior, will perform her version of Daniel Caesar's "Blessed" at the ceremony.
"I'm excited to perform because it's a final farewell to the class of 2018," Morris said.
In their last few weeks of high school, seniors feel nostalgic as they reflect on the past four years as Kettle Run Cougars. From meals served in the Cougar Café to segments on the morning announcements, seniors have their "favorites" from being students at Kettle Run.
"I will miss grilled chicken wraps and fries," Pierce said. "I'm both excited and sad to graduate because high school has been a fun experience," Serena Durant said. "But life after high school will be so much different and I'm excited to see what the future holds for me."
After leaving their mark on Kettle Run, seniors will now spread their wings and will start fresh in new locations. The class of 2018 has made Brill proud.
"The Class of 2018 has been a great group to work with," Brill said. "The group advocates for themselves and causes in which they are passionate about. They have worked to improve the school spirit with fun initiatives, such as the Homecoming parade and the connection of the Spring Spirit Week to Prom. I appreciate their enthusiasm and energy. Certainly, we will miss them but wish them the very best in their future endeavors."